Donald's Story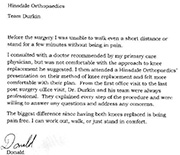 Before the surgery, I was unable to walk even a short distance or stand for a few minutes without being in pain.
I consulted with a doctor recommended by my primary, care physician, but was not comfortable with the approach to knee replacement he suggested. I then attended a Hinsdale Orthopaedics presentation on their method of knee replacement and felt more comfortable with their plan. From the first office visit to the last post surgery office visit, Dr. Durkin and his team were always professional. They explained every step of the procedure and were willing to answer any questions and address any concerns.
The biggest difference since having both knees replaced is being pain free. I can work out, walk, or just stand in comfort.